When news of the Robb Elementary School shooting in Uvalde, Texas spread, worried parents and residents gathered at the scene, where they said they pleaded with law enforcement to charge in the building and considered entering themselves while the shooter was inside the school for at least 40 minutes.
Since Tuesday's massacre, which left 19 children and two teachers dead, conflicting accounts have emerged about the response of law enforcement.
Javier Cazares, the father of fourth grader Jacklyn Cazares who died in the attack, said he ran to school after learning of the shooting and saw officers still outside the building.
Upset that authorities did not appear to move into the building, Cazares said he and other passers-by wanted to enter the school themselves.
"Let's go fast because the cops aren't doing anything they're supposed to do," he told The Associated Press and later confirmed to NBC News.
"More could have been done," added Cazares. "They weren't prepared."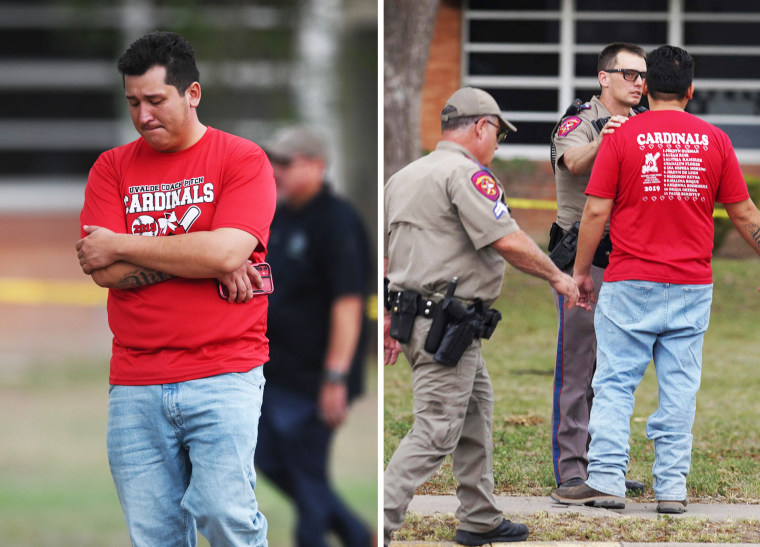 Video footage from outside the school on Tuesday appears to show distressed parents and residents reacting to news of the shooting.
A woman is heard shouting, "Come in! Walk in! What's the p——— deal? »
"They're all in there, the cops don't do anything but stay out," a man is heard saying. "You know they are little children, don't you?" Little children, they don't know how to defend themselves.
It is not known when the video was taken or whether officers were inside the building at the time.
Robb Elementary serves second through fourth graders in the small town of Uvalde, Texas, about 75 miles from the Mexican border, which is home to a large Latin American community.
Another video appears to show several parents outside the school, some shouting with armed officers in military gear ahead of them.
Witness Juan Carranza, 24, told The Associated Press that women near the school shouted, "Go ahead! Go ahead," to officers after the attack began. He did not see these officers enter, he said.
Uvalde Police Chief Daniel Rodriguez said in a statement Thursday that officers in his department "responded within minutes."
"The responding UPD officers were shot and wounded by the suspect," Rodriguez said in the statement. "Our entire department is grateful that the officers did not sustain any life-threatening injuries."
"I understand that questions are arising regarding the details of what happened. I know the answers will not come quickly enough during this difficult time, but rest assured that with the completion of the full investigation, I will be able to answer any questions we can.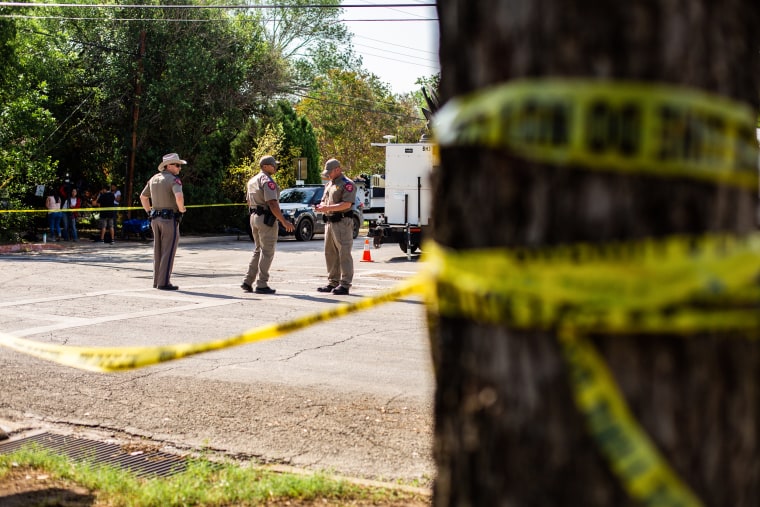 State and federal law enforcement officials said Thursday they do not yet have a timeline on the precise sequence of events from when the gunman crashed his grandfather's vehicle. mother until he was finally shot by a Border Patrol agent.
Texas Department of Public Safety Director Steven McCraw told a press conference Wednesday that the shooter was at the school for an hour before law enforcement entered the classroom .
"It's gonna be in, like, 40 minutes in an hour," McCraw said.
"The main thing is that law enforcement was there," he continued. "They engaged immediately. They held him in the classroom. They assembled a tactical stack in a very orderly fashion and, of course, raped and assaulted the individual.
Uvalde City Council member Everardo Zamora told NBC's "TODAY" show Thursday that while people outside accused police of inaction, officers were already inside the building.
Zamora said he arrived at the school around 11:45 a.m. and had already seen many Border Patrol officers and agents trying to push people away and prevent them from entering the building.
"This whole place was full of police," he said.
"They were already in there. I saw them running there," added Zamora.
NBC News reached out to the Texas Department of Public Safety overnight for clarification on the timeline and comment on criticism of law enforcement's initial response to the shooting.
In Tuesday's attack, gunman Salvador Ramos, 18, allegedly shot his grandmother, got into a car that crashed into a ditch by Robb Elementary and drove into the school with a long AR-15-style rifle, officials said Wednesday.
As he walked to the west side of campus, an officer from the Uvalde Consolidated Independent School District "engaged" him, but it's unclear what that interaction was, McCraw said Wednesday.
"The shots were not exchanged" and "the subject was able to enter the school," McCraw said. It is unclear why a school resource officer did not open fire.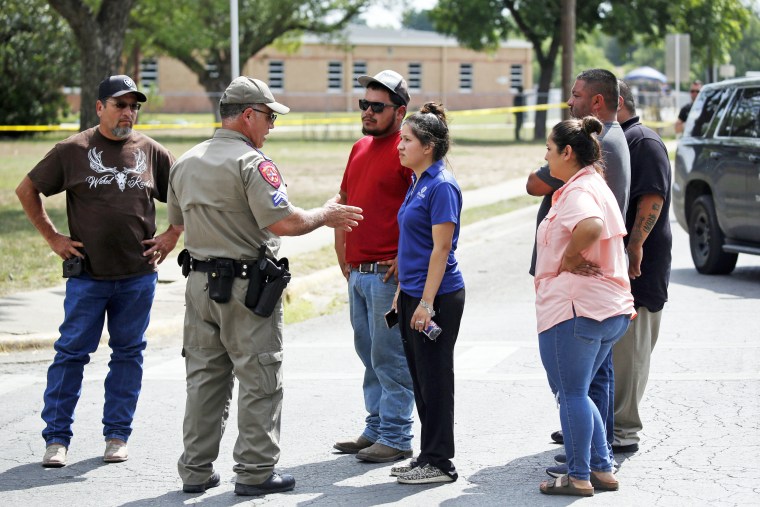 Texas Department of Public Safety spokesman Lt. Chris Olivarez told CNN's "New Day" Thursday that the shooter exchanged gunfire with two police officers who arrived at the scene. These two officers were shot.
Texas Governor Greg Abbott said Wednesday the shooter entered the school through a back door, walked down two small hallways and entered two adjacent classrooms where he locked the door and opened fire.
Officers from multiple units and agencies — including local police and a U.S. Customs and Border Protection tactical team — arrived at the scene but were unable to enter the classroom.
The door to the classroom was finally opened when the principal produced a master key, state and federal law enforcement officials said.
It's unclear why officers couldn't break down the door or how long it took them to enter the classroom.
The shooter was eventually killed when members of a CBP tactical team entered the room and shot him.
Those killed and injured were all in one classroom, Olivarez told CNN.
Chance Aguirre, 9, a third-grade student at Robb Elementary recounted how he and his classmates hid in the cafeteria when they heard gunshots.
"Everyone was scared. We were all freaking out because we didn't know what was really going on," he said in an account filmed by NBC affiliate WOAI of San Antonio.
He described seeing what looked like "thousands of police and border patrol" entering the cafeteria as he and others hid behind a stage in the room. "We had to leave school," he said.
Police did not share the motive for the attack and said the shooter had no known history of mental illness or criminal history.
However, Abbott revealed that he shared three warnings on Facebook shortly before the shooting. The warnings that were sent in a Facebook post before the shooting weren't posted publicly — they were sent in private messages discovered after the shooting, said Andy Stone, a spokesman for parent company Meta. of Facebook, in a Tweeter.
The shooter had purchased rifles and 375 rounds just days after his 18th birthday, McCraw said.
On Thursday, the Uvalde Leader-News, a local newspaper, published a heartbreaking front page: an almost entirely black sheet except for the date "May 24, 2022" to mark the day 21 lives were lost in the shooting. at school.
Uvalde Justice of the Peace Eulalio Diaz told MSNBC Thursday afternoon that "the 21 victims will be back in Uvalde this afternoon, back with their families, in their places," a sign that the process of identification ends.
"Of course it doesn't stop," he continued. "Because at that time families have to make arrangements with funeral homes, and the grieving process continues."
In addition to the 21 fatal victims, 17 others were injured.
Dr. Lillian Liao, medical director of pediatric trauma at San Antonio University Hospital, described the treatment of four victims: three students and the shooter's 66-year-old grandmother, whom he once shot before the shooting. school massacre.
"Overall, we were dealing with destructive wounds, and that meant large areas of tissue were missing in the body, and they needed emergency surgery because there was significant blood loss," Liao said. at CNN.
Even in the aftermath of a tragedy, there is little respite from gun threats.
On Wednesday, police in the Dallas suburb of Richardson found a pistol and an AR-15 replica in a teenager's car parked outside a high school. The teenager was arrested and charged with illegally carrying a weapon in an unarmed school zone, a felony, according to the Richardson Police Department.