Sponsored by Guardian Alliance Technologies
By Courtney Levin, Police1 BrandFocus Staff
Very few, if any, of the daily tasks of a cop can be described as "easy". Not only has it become increasingly difficult to enforce the law safely among the general public, but administrative tasks are sometimes hampered by outdated processes and systems. Often at the top of the list of grueling office tasks is reviewing lengthy applications from potential candidates in an effort to determine who will be subject to a full background investigation prior to employment.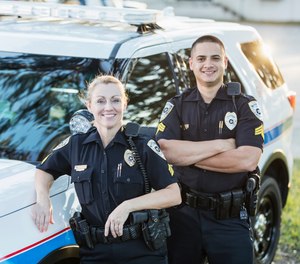 It's not uncommon for agencies to fall behind when hiring agents, especially when an increasing number of departments are understaffed and operating on tight budgets. In a world where tasks can be accomplished with just a few mouse clicks, the law enforcement hiring process often feels like an archaic and staggering challenge.
With a mission to ease the burden, the team at Guardian Alliance Technologies has developed digital tools to help streamline the hiring process. Through their free triage center, agencies can review applicants' applications and determine who will receive a full background investigation more efficiently and conduct background investigations with greater confidence.
HIRING DOESN'T HAVE TO BE DIFFICULT
How confident are you that your agency can uncover all potential concerns about a candidate? When was the last time your background investigators were able to process applications at a rapid pace?
If your answers lean toward the negative end of the spectrum, you're not alone. The process of hiring new agents can be overwhelming, especially because of the paperwork involved.
Although a critical step in discovering a candidate's qualifications, the use of paper-based personal history questionnaires (PHQs) creates several problems. From storage issues to manually reviewing hundreds of questions per candidate, processing each HQP is anything but simplified.
"There has to be a better way," said Justin Biedinger, founder and chairman of Guardian Alliance Technologies, when describing the initial idea to develop the Free Triage Center. "There has to be a way to not only speed up the process, but also catch errors and uncover more information."
It is virtually impossible to cross-reference with other agencies to find out whether a candidate has altered an answer from a previous HQP submission to make themselves seem more favorable, and agencies may find themselves inadvertently leaving a candidate less ideal to slip through the cracks.
Instead, Guardian Alliance Technologies designed the Free Triage Center to process claims more efficiently and help agencies close information gaps and weed out bad apples.
GOING DIGITAL BRINGS GROWTH
The Free Triage Center does more than scan each candidate's HQP. Visual cues provide at-a-glance information for quick review. Details, including HQP percentage complete, when a candidate was last applied, and what documents candidates have uploaded, are visible in an organized dashboard.
Guardian Alliance Technologies has also integrated access to several key databases to help agencies uncover potential candidate issues. Its National Applicant Information Center (NAIC) is a centralized database exclusively available to Guardian users that stores a candidate's job search activity, such as the agencies they have applied to, and flags any concerns arising from changes applicants may make from one substantive questionnaire submission to the next.
Additionally, Guardian's Triage Center includes a feature that allows agencies to easily run candidates through the National Decertification Index (NDI) early in the hiring process to find out if the candidate has been decertified as a as a peace officer or is the subject of an investigation.
Agencies can then document any issues found and make them visible in the applicant's file under the concerns report. It is important to note that NDI should not be viewed as a blacklist, but rather as a tool for agencies to obtain more information about their applicants.
Using the free triage center creates an ever-increasing advantage for law enforcement as a whole, Biedinger says.
"It has a compounding effect on the overall value of the system. By allowing agencies to use this contributory database for free, we get 100% of the candidates in the system, which makes the system more valuable for all other agencies that join," he said.
GAIN CONFIDENCE IN YOUR HIRING DECISIONS
Streamlining the hiring process isn't just about reducing the time spent reviewing HQP. The primary goal of the Free Triage Center is to change law enforcement for the better.
"Guardian is not just a software platform that we sell to police departments to make money," said Biedinger, a former member of the Stockton Police Department. "It's literally a move to change the industry and improve the optics of the profession."
Agencies have long sought to hire people of the highest caliber, but due to the ongoing challenges facing police departments nationwide, even greater efforts should be made to employ the best of the best.
"Given the times we live in, we can't afford a bad hire," said Ryan Layne, CEO of Guardian Alliance Technologies. "Public confidence in law enforcement is at an all-time low. Gaining public support is essential to fighting crime and maintaining public order. The less support our law enforcement officers have from the public, the more we will see an increase in crime.
"Additionally, we are facing a severe hiring crisis and it is increasingly difficult to attract good candidates into the profession when the prospects of being a police officer are so low," Layne said. "We must do everything in our power to ensure that we hire the best candidates to minimize behavior that will only continue to damage the reputation of this honorable profession."
The free triage center gives agencies added organization and confidence when hiring agents, and unlike other software solutions, it's truly free to use. Guardian Alliance Technologies offers additional paid survey tools, but many agencies choose to rely solely on the free triage center.
The importance of uncovering every potential problem during the prescreening process is now being highlighted, says Biedinger.
"As a background investigator, you have to lie down at night knowing that you recommended someone to hire and hope that you found out everything you could about that person," Biedinger said. "I would have slept much better at night if this tool was available when I was doing backgrounds."
"It is an honor to provide this solution to my brothers and sisters in blue who carry this burden on a daily basis," continued Biedinger. "It is my hope and prayer that by providing this tool for free, we will eliminate any excuse not to use it and prevent bad apples from entering our profession."
To visit Guardian Alliance Technologies for more information.
Read next: Why Guardian Alliance Technologies made easy access to the National Decertification Index a standard part of its free triage center